In 2022 we are delighted to bring the Archibald Prize back to New England Regional Art Museum. The Archibald Prize, first awarded in 1921, is the country's most-loved portrait prize award, and one of its most prestigious. Awarded to the best portrait painting, it's a who's who of Australian culture―from politicians to celebrities, sporting heroes to artists.
Prestigious and controversial, the Archibald Prize is Australia's foremost portraiture prize and a must-see exhibition.
In the centenary year of the Archibald, Peter Wegner's portrait of 100-year-old artist Guy Warren (himself an Archibald winner in 1985) took out the prize. The 2021 'Packing Room Prize' was awarded to Kathrin Longhurst for her portrait of singer Kate Ceberano.
Artwork images and exhibition labels, including audio labels and Auslan video, available at agnsw.art/aws21
Entry to The Archibald Prize 2021 is by ticket only.
All ages exhibition. Bring your own headphones to experience the Audio Tour.
ABOUT YOUR TICKET
Tickets can be purchased at NERAM reception. 
Ticket prices*
$ 10 – Friends of NERAM and Culture Club Member 

$12 – Adults

$30 – Season Pass

$25 – Family (2 adults + 2 children under 16 years)

$8 – Concession card (Pension, Health Care, Fulltime Student)

$5 – Child 5-16 years

Free – Child under 5 years

Companion card accepted**
* Concession cards must be presented at entry.
** Admission to the Archibald Prize 2021 exhibition is free to those who hold a Companion Card and are assisting as a carer. Present your Companion Card at the front desk to receive your ticket.
People's Choice at NERAM
At NERAM, Jude Rae's self portrait, 'Inside Out', was voted the People's Choice!
The winner of the People's Choice prize at NERAM is Joanne Braiding from New South Wales.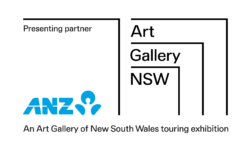 The Archibald Prize 2021 regional tour is an Art Gallery of New South Wales touring exhibition. Presenting partner ANZ.

The Archibald Prize has been sponsored at NERAM by the Friends of NERAM
Image: Winner Archibald Prize 2021 Peter Wegner Portrait of Guy Warren at 100 © the artist