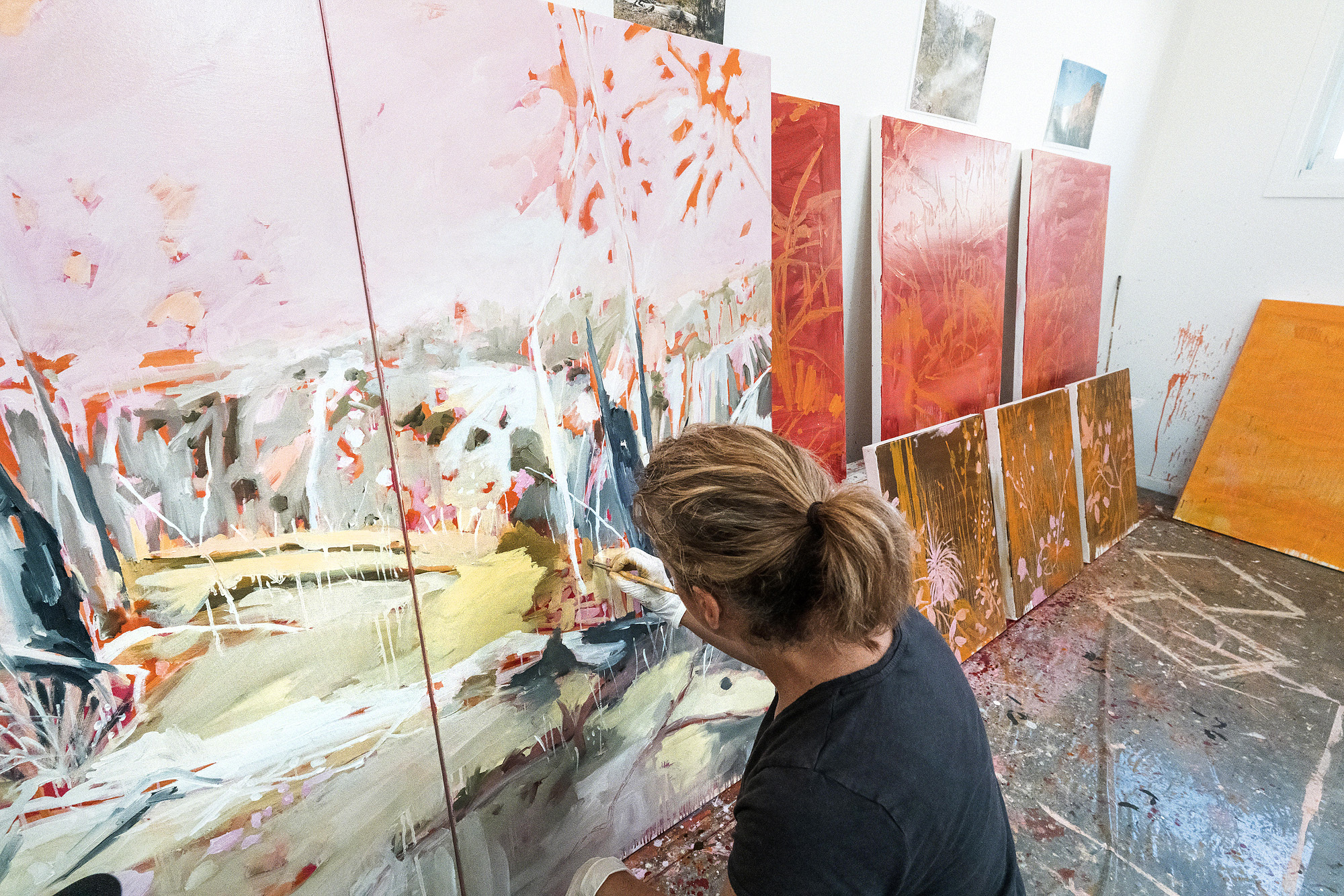 Join Interconnected exhibiting artist Paula Jenkins for a fun evening of painting and champagne.  In this workshop, we will discuss what to look for when creating a landscape painting, how to form a good composition, and the bones to building a painting. We will also look at colour mixing, and how to be adventurous with the use of colour to create vibrancy and energy in a painting.
The workshop is for everyone, no prior art experience is required. Come along to paint and meet people or grab a couple of friends for a fun, arty night out.
What's Included:
Instruction from practicing artist Paula Jenkins
Canvas, basic paints and brushes required to make your own masterpiece
Champagne and nibbles
What to Bring: 
2-3 landscape images. These can be photo's or out of a magazine, etc. (Even though we'll likely only have time to create one painting, we will chat about compositions and what Paula looks for in a landscape, and this may determine which image you choose to paint.
Extra canvases or boards if you'd like to have spares or would like back-up
Your favourite paint colours (please ensure they are acrylic or similar as they dry quickly) – you may have preferences in some colours that may not be provided, or you may be drawn to a warm or cool colour palette. If so, please feel free to bring along some extra's so you can make your painting unique to you. Some lovely options, particularly for landscapes, are:

Olive green
Permanent alizarine
Magenta / pink
Burnt umber
Yellow ochre
Red ochre
Cadmium orange
Turquoise
Violet
Spaces are limited and bookings are essential. Use your NSW Discovery Voucher when booking this workshop! 
Paula Jenkins has a deep connection with the Australian landscape, having grown up among the bush near Paterson in NSW's Hunter Valley and spending 7 years living on the historic Camden Park property whilst at secondary school. Both these places significantly influenced Paula's love and respect of nature and the land, where she spent many occasions exploring with a sketch pad in hand, documenting her surrounds.
Paula currently lives, and works from her studio, in Walcha NSW; an area that abounds spectacular subjects in nature. Paula's distinct style depicts the essence of Australia's landscapes using predominately oil and gouache, and her works are known for her vivacious use of colour, textures and mark-making to form her landscapes and compositions.

This event coincides with Interconnected a Beautiful Bizarre Magazine curated exhibition.