Art collections represent curated stories and themes, each different from the next. Whether it be collecting or creating art, there is an undeniable force behind an assemblage that brings communities together. As we celebrate the history and diversity of Packsaddle acquisitions to NERAM, we ask ourselves… what makes for a good art collection?
There have been many reasons for the individual and collective purchasing of art during the 36 years of Packsaddle. Whether it be purchasing art to furnish our living areas, sometimes accumulating into a feverish desire to cover walls from ceiling to floor with works. Other times, art is purchased to support artists and institutions such as NERAM, where the collections hold their own unique narratives.
There is no doubt that art collections make for an engaging conversation. In the third event for the 2021 Packsaddle lecture series, join NERAM Director Rachael Parsons in conversation with artist Angus Nivison as they discuss their favourite art collections, including those at NERAM, and the people and institutions that make them great.
WHEN | Saturday 30 October, 2021
TIME |  10.30am-11.30am
WHERE | New England Regional Art Museum
COST |  $10-15 bookings are essential
Proceeds from ticket sales will go towards Packsaddle sponsoring the conservation treatment of Fred Leist's 'London Coster Girl' in the Adopt an Artwork program.
The Packsaddle Lecture Series invites leading guest speakers to explore aspects of Australian and international artistic practices and history. These informative and entertaining talks provide the community with an opportunity to explore themes and ideas related to some of our key collection areas. The annual lecture series includes the Howard Hinton Lecture on art history, the Chandler Coventry Lecture on contemporary art and the F.T. Wimble Lecture on printing history and art.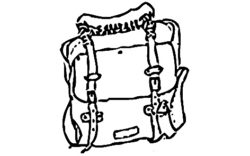 This event is sponsored by Packsaddle.
Image: Fred Leist, London Coster Girl, 1912, oil on canvas, The Howard Hinton Collection.
---
Terms and Conditions
NSW Government has introduced new restrictions to come into affect from Monday 11 October 2021. These restrictions require all visitors and staff to have had two doses of COVID-19 vaccine to enter the Museum and Six Counties Restaurant, as well as all classes, workshops and events held at NERAM. Please have your proof of vaccination ready to show staff as required. We thank you for your understanding. 
To comply with current COVID restrictions all NERAM events have a limited capacity and use a ticketing system. Bookings are essential
IN LIGHT OF COVID-19, ALL PROGRAMS AND WORKSHOPS ARE SUBJECT TO CHANGE AND IN ADHERANCE WITH GOVERNMENT REGULATIONS. THERE WILL BE ADDITIONAL HYGIENE PROCEDURES THAT ALL ATTENDEES WILL BE ASKED TO FOLLOW THROUGHOUT.