Packsaddle Lecture Series: Howard Hinton Lecture

Anne-Louise Willoughby: Nora Heysen: A Portrait
Nora Heysen was an incredibly accomplished painter, technically brilliant and committed throughout her life to her own unique realism. She was the first woman to win the Archibald Prize for portraiture in 1938 – and remains one of only 10 women to have won Australia's most famous art prize in the past hundred years. (Four of those 10 won in the past decade.) Heysen was also the first woman to be appointed as an official Australian war artist, in the tropical, difficult conditions of New Guinea in 1943, where she argued with command and refused to remain restricted to painting only the nurses.
Heysen is also an important inclusion in the Howard Hinton Collection and it is evident by the number of key works that feature that Hinton greatly appreciated her work.
Join us for the second of our 2019 Packsaddle Lecture series to hear Anne-Louise Willoughby, journalist, lecturer and author of Nora Heysen: A Portrait, discuss Nora's work and career.
Australian art historian and biographer Janine Burke writes:
"In this exemplary biography, a tender and complex portrait emerges of a tough and vulnerable artist – as all women artists must be."
Anne-Louise Willoughby worked as a journalist in a career that spanned thirty years in Western Australia, first training as a newspaper cadet in the 1970s before moving to magazine publishing with Australian Consolidated Press. As a freelance journalist, she was a feature writer for Australian newspapers and contributing WA editor to Belle Magazine. Anne-Louise has worked as a lecturer and tutor in creative writing at the University of Western Australia with a particular interest in memoir and biography. She lives in Fremantle, Western Australia.
Tickets limited. Book Now.
Nora Heysen: A Portrait is published by Fremantle Press and distributed by Penguin Random House. Available to purchase from Fremantle Press here and leading online and in-store retailers.
The Packsaddle Lecture Series invites leading guest speakers to explore aspects of Australian and international artistic practices and history. These informative and entertaining talks provide the community with an opportunity to explore themes and ideas related to some of our key collection areas. The annual lecture series includes the Howard Hinton Lecture on art history, the Chandler Coventry Lecture on contemporary art and the F.T. Wimble Lecture on printing history and art.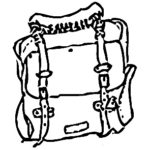 This event is sponsored by Packsaddle