Packsaddle Lecture Series: Chandler Coventry Lecture on Contemporary Art
Margaret Olley has long been appreciated for her flower and still life paintings but you only have to expand your vision a little to realise that these works are all parts of the interiors of the places that have deep personal connections for her. Her first interiors appeared in the mid 1950s but didn't become a major focus in her output until 1970 when a series of ten paintings of the interiors of her family home, Farndon, were exhibited at Brisbane's Johnston Gallery. Another significant group appeared two years in her Homage exhibition at the same venue. Works entitled 'Interior' appear consistently in her work  but it wasn't until1989 that her major series of The Yellow Room began to appear at the Philip Bacon Galleries, Brisbane and were a focus of her exhibitions some twenty years including her 2007 work The Yellow room, Triptych in the NERAM Collection.
Speaker, Art and social historian Glenn R. Cooke BA (Melbourne) 1977, MA (GWU, Washington, D.C) 1979 was appointed as the first Curator of Decorative at the Queensland Art Gallery in 1981 and retired as Research Curator, Queensland Heritage in 2013.. He has published: L. J. Harvey & his School (1982), Carl McConnell: master potter (1986), Thorns and Petals (1988), A time remembered (1995), Art off centre (1997), Lady woodcarvers of Rockhampton (2000) and Tropical Pleasures (2004), With Heart and Hand: Art pottery in Queensland 1900-1950 (2018) and numerous articles on Queensland's fine and decorative arts. He had established databases on Art Exhibitions in Brisbane 1950-1975, on Queensland artists Margaret Olley for the Margaret Olley Art Trust and Jon Molvig for QAGOMA Research Library and is currently preparing another on Vida Lahey.  He is an enthusiastic collector, gardener and ballroom dancer.
Image: Margaret Olley, 'The Yellow Room Triptych', 2007, oil on board, The Howard Hinton Collection
The Packsaddle Lecture Series invites leading guest speakers to explore aspects of Australian and international artistic practices and history. These informative and entertaining talks provide the community with an opportunity to explore themes and ideas related to some of our key collection areas. The annual lecture series includes the Howard Hinton Lecture on art history, the Chandler Coventry Lecture on contemporary art and the F.T. Wimble Lecture on printing history and art.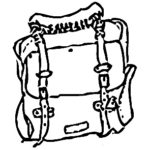 This event is sponsored by Packsaddle