Report on Helen Dangar Memorial Art Bursary recipient Isabelle Devos' experience at David Keeling painting workshop in Central Highlands of Tasmania March 2021
After a difficult 12 months, it was very exciting to be going to an airport in order to travel interstate for this wonderful opportunity. I have admired David Keeling's work for several years and was made aware of his work through his winning of the Glover Prize for Landscape Painting. Keeling lives and works in Hobart with his wife and printmaker Helen Wright who both are represented by Bett Gallery in Hobart. David is also represented by Niagara Galleries in Melbourne.
A group of 12 artists from NSW, Victoria and Tasmania met in Hobart with the organiser and spent some time with well-known painter and our mentor for the next several days, David Keeling. We travelled to his studio for a discussion of his work, style, favourite materials and current work. Later that day, we travelled about an hour north to Bothwell in the Central Highlands to Bothwell and Ratho Farm, where John Glover painted some of his famous work. After a delicious meal together we spent the evening discussing art and other subjects with David.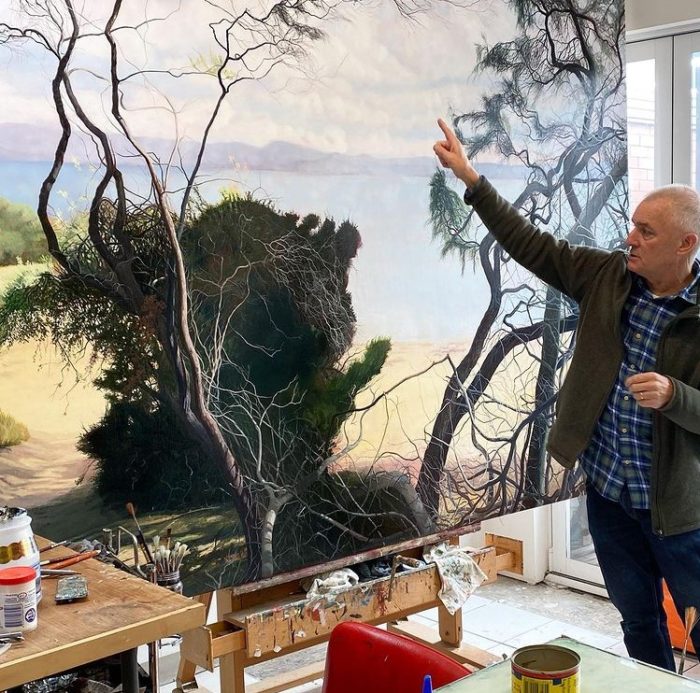 Starting at a reasonable 9 am the next morning, we met outdoors to investigate some painting and drawing techniques to loosen up and explore the combination of wet and dry materials in order to get a sense of movement and texture. After another coffee, we all grabbed our materials and backpacks and set off around the property to draw and paint a chosen part of the farm.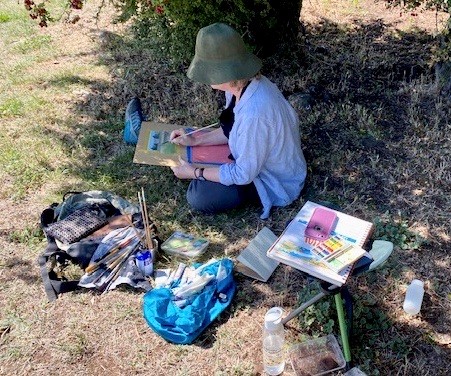 David then walked around to find each of us and answer questions and give pointers and ideas. Then a short break for a delicious homemade soup and bread and cheese and back to find another location for the afternoon of outdoor, en plein air painting.
I tended to work in a combination of drawing and painting, trying out some of the layering with a variety of media to capture the light and colour of the area. David found each of us to offer some individual time and tuition. Then the sun began to descend and we packed up our things and prepared some papers and boards for the next day. Then it was on to meet for dinner, drinks and discussion around the fireplace.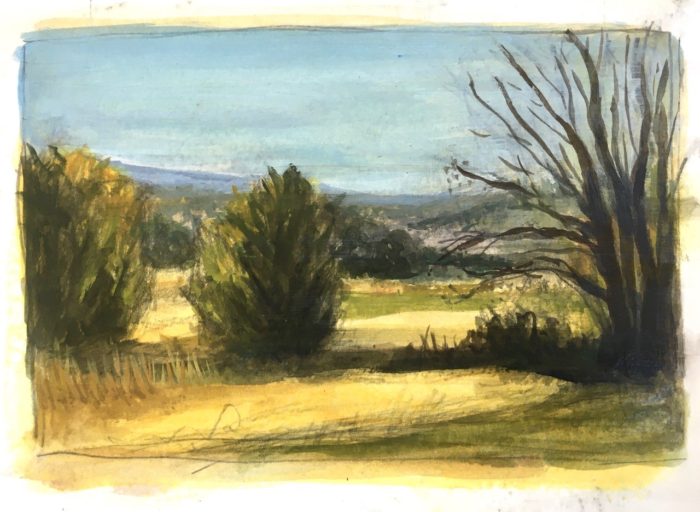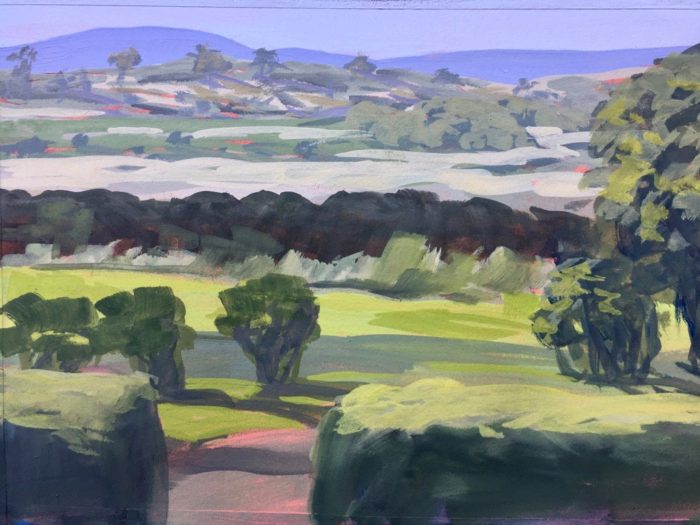 Since it was a whiskey-making region, I was able to enjoy a single malt from the nearby Kempton Distillery. What a lovely way to end the day. Exhausted and happy.
We continued in this way for several days, a morning demonstration followed by the day spent outdoors studying and painting the landscape. This experience was so enjoyable, especially in getting to know other artists as well as our mentor and teacher David Keeling. David was extremely generous, kind, instructive and encouraging to us all. I found myself very excited about getting back home with more time and materials to further explore the different ways of working.
I thank all of those who have supported my growth and learning through this activity and the generosity of the Helen Dangar Memorial Artist Bursary.
There are plans for an exhibition of work that comes from experiences at this workshop.