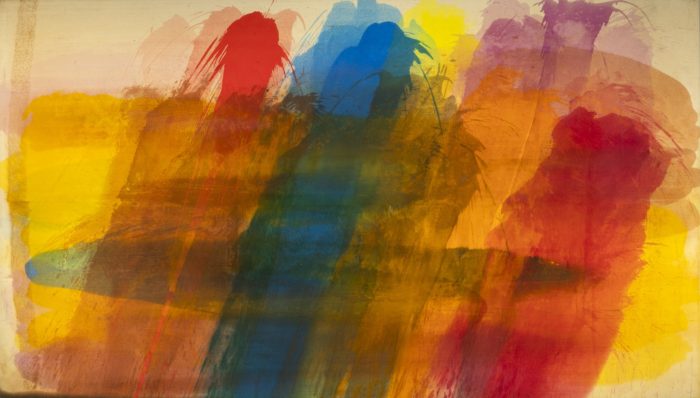 To kickstart our #curatorspick from the stunning COVENTRY exhibition we are focusing on the large-scale work displayed at the entrance of the exhibition – 'Discoverer' by important British abstract expressionist Albert Irvin.
Irvin's artistic career began in the 1950s, producing figurative and landscape works. He also became involved with the St Ives School of artists who shared an interest in abstraction as well as the West Cornwall landscape. In the 1960s he commenced a phase working with oils on paper and then works that were predominately black or oval in shape.
In the 1970s his work changed dramatically both in scale, style and palette. This work, from 1972, is one of his early acrylic works, created when he was transitioning from oils. The title is a bit of a mystery but works created in 1971 have a similar yearning/searching theme such as 'Quest', 'Voyage' and 'Travelling Solo' which may reflect the shift in direction of his work.
Irvin and his wife Betty visited Australia for 3 months for his exhibition at Coventry Gallery in 1985 and by all accounts enjoyed their time here immensely.
Albert Irvin, Discoverer 1972, synthetic polymer paint on canvas, 243.5 x 440.4cm. Gift of Chandler Coventry 1979. The Chandler Coventry Collection.