Tipping our Akubras to Packsaddlers: the women behind the exhibition.
Packsaddler (noun) one group of individuals who dedicate a portion of their year to fundraising for their local art museum whilst supporting the Australian contemporary art landscape.
It takes a special someone to become a Packsaddler. They must possess grit, pizazz, and an unwavering love for art, in its many forms. In the thirty-six years since Packsaddle was established, there have been a number of women (and a few exceptional males) who have stepped up to the challenge of coordinating an annual fundraising exhibition held at the New England Regional Art Museum.
The Packsaddle Selling Exhibition presents a selection of paintings, original prints and sculptures by Australian artists, hand-picked by the committee, and provides local collectors and art lovers the opportunity to purchase great art. Founded by four local women, June Atherton, Pat Elkin, Benoni Pearson and Beverley Wright, in search of a place in Armidale where they could exhibit their art, Packsaddle has since become a much-anticipated cultural event for the region and a significant donor to NERAM. The committee is currently made up of eight sensational women, including Philippa Charley Briggs, Shirley Cooke, Liz Fulloon, Glenda Kupczyk-Romanczuk, Moira Lloyd, Michelle Schouten, Lynne Walker, and Anne White, with Pat Elkin still involved as their Patron.
So where did it all start and what are some of the greatest achievements?
We sat down with original Packsaddler Pat Elkin along with veterans Moira Lloyd and Glenda Kupczyk-Romanczuk as they look back over the years.
When we asked Pat how Packsaddle came to be, her reply was 'by accident.'
'Packsaddle was created by four artist friends including myself who regularly met together in Armidale to paint', Pat said. 'We had nowhere to show our work, so we opened a cooperative gallery in town called The Gallery Image. It lasted for several years before we decided to close it. However, we didn't want to lose all the connections we had made and so my friend Beverley Wright offered her town house as the location for the exhibition. It was a little house with a roof that looked like a packsaddle. In 1985, former NERAM Director Joe Eisenberg recognised we were selling paintings like hotcakes to support NERAM, so he approached us about using one of the galleries at the Museum. Back then there were only two galleries! We decided to keep the name Packsaddle and that's how the exhibition got its name.'
The first Packsaddle exhibition at NERAM included thirty unique artworks by regional and urban artists. Quite the contrast to the four hundred works exhibited in 2020. And as the number of works grew so did the number of volunteers behind the exhibition.
'There were about four [Packsaddlers] back then,' Pat said. 'We were all about the same age and getting on, so Joe encouraged us to invite some younger people to join us.'
But it couldn't be just anyone who would join the Packsaddle crusade.
'You have to be invited,' Moira chimed in, 'I remember it was 2002 when I was invited to be a Packsaddler, and it was such a privilege to join this amazing group of women.'
Moira and Glenda have been volunteering in Packsaddle for over two decades. During that time, they have helped initiate some of the greatest achievements for the committee.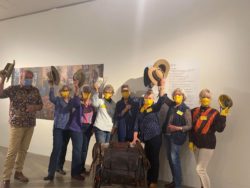 Although a large focus for Packsaddle is funding new acquisitions for NERAM's collections, they have also made significant contributions across many aspects of NERAM's operations, from the lighting and hanging systems, to establishing NERAM's relationship with the Margaret Olley Trust and helping acquire Margaret Olley's Yellow Room Triptych, as well as being the leading contributor to NERAM's critical Adopt an Artwork program for conservation of the museum collections.
'I think we have all been stunned at the monetary value of the contributions from Packsaddle to NERAM,' Glenda said. 'When we added up all the donations for this display, the total comes to more than $500,000.'
'This is a group of volunteers who come together every year to put on an exhibition, and the results have been significant,' Moira added. 'We have adopted nearly twenty works through the Adopt an Artwork program and contributed $45,000 just to that.'
Monetary value aside, the greatest contribution of Packsaddle must be the volunteer hours that have gone into the annual exhibition and fundraising. In the months leading up to the exhibition the Packsaddlers spend a great deal of time selecting works, which often involves travelling to capital cities to meet with artists and gallery owners. They then organise the transport of the works to Armidale, as well as the unpacking, framing, hanging, cataloguing and then sale of works.
'For three months around the exhibition each year Packsaddle is a full-time job,' Glenda said. 'Over the 36-year time span and multiply that by a group of 8 or 10 people, that's a lot of hours.'
'It's become quite the labor of love,' Moira adds. 'The exhibitions have a common purpose for the committee. We are all passionate about supporting NERAM.'
'It's meant a great deal to me,' Pat says. 'Packsaddle is a focus for the year, and it's something I look forward to. I feel that I am helping up-and-coming artists as I would've liked to have been helped in my early days as an artist.'
All the artists are paid for their works, which are sold on commission. NERAM would like to thank all the past and current members of the Packsaddle Committee for their dedication and generosity to both NERAM and Australian contemporary artists.
Learn more about the contributions of Packsaddle on our website here.
Thank you to Pat, Glenda and Moira for contributing to this blog.