It's on again – Friday 18 October to Sunday 5 November – the 34th annual Packsaddle selling exhibition at the New England Regional Art Museum in Kentucky St, Armidale. Last year the show was a huge success with exceptional sales and the quality of works on offer for this year indicates another great exhibition.
Each year Packsaddle exhibits in excess of 300 artworks and prints for two weeks and is one of the biggest selling exhibitions in regional NSW. The exhibition comprises a diverse range of paintings, prints, ceramics and sculptures from nationally renowned artists, hung alongside young and emerging artists with works contributed by major Sydney galleries and individual artists.
This year Melissa Smith a print-maker from Tasmania, will open the exhibition at 6pm on Friday 18th October. Her work references aspects of the landscape and in particular the shifts in the landscape that have occurred as a consequence of climatic changes. Melissa has been a finalist in several major Australian art prizes and her work is represented in corporate, tertiary, college and private collections in Australia and overseas. She was invited to open the Packsaddle exhibition this year because her work is always a sell-out here.  She will give an artist's talk at 10.30 on Saturday 19th October.
Every year the Packsaddle team are on the lookout for new talent and this year is no exception with an array of vibrant artists and several printmaking organisations coming on board for the first time. These organisations include the Print Circle, a group of women whose vision is to encourage experimental and innovative techniques and to support and exhibit the work of women printmakers.The members currently produce limited edition prints in various traditional media including etching, lithography, silkscreen printing, collagraphy, woodcut and linocut.
Artists from Michael Reid Galleries will also be contributing for the first time.
Also exhibiting with Packsaddle for the first time is Cicada Press from the Art & Design Department of the University of NSW. Established by award-winning printmaker and senior lecturer Michael Kempson, Cicada Press brings established artists and students together in a community of practice. Well-known artists including Elisabeth Cummings, Reg Mombassa, Euan Macleod and Michael himself work with students who are studying print-making techniques.  Cicada Press funds itself by selling works from the limited editions created and printed in the print-making studio at Cicada.  Packsaddle patrons will now have an opportunity to purchase these prints direct from the source, knowing that in doing so they are not only supporting Packsaddle and NERAM but also this important print-making studio.
On Friday 25th October, from 7 to 9 pm, as part of NERAM Nights, a new initiative at NERAM, there will be a Hinton Speak Easy, where patrons will be able to sample Hinton Whiskey and Yellow Gloves Gin from the Dobson Distillery while listening to live music and perusing the Packsaddle Exhibition.
On Saturday 26 October at 10.30 am Michael Kempson of Cicada Press will be delivering the final lecture in this year's Packsaddle Lecture Series, each focused on the interests of three major benefactors of NERAM – Hinton, Coventry and Wimble. The lecture series extends Packsaddle's commitment to education, on the basis that that the more we learn about art and art-making, the more we all appreciate and enjoy. The F.T. Wimble Lecture is named for the man whose collection is the foundation of NERAM's Museum of Printing.  Michael's lecture is titled Print-making and the New Normal.
The Wimble Lecture and the Hinton Speak Easy are ticketed events – more information on the NERAM website.  The Packsaddle Exhibition and the artist's talk are free and all are welcome.
The Packsaddle exhibition runs  from Friday 18th October until Sunday 3rd November.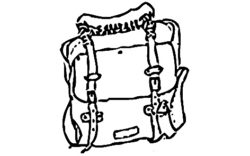 Image: Melissa Smith Momentary Worlds (Strata) 2017. Collagraph.