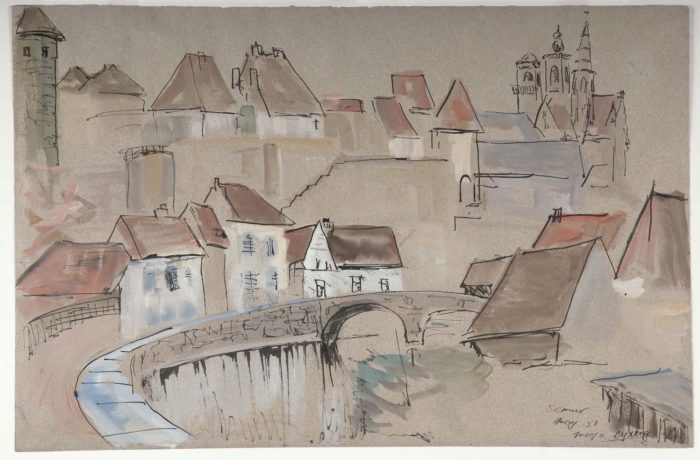 While many works in the COVENTRY exhibition are big, bold and brash, this week's #curatorspick looks at a more modest-sized landscape painted by intrepid female artist Moya Dyring.
Born in Melbourne (1909-67) Dyring first visited Paris in 1928 then studied at the National Gallery school in Melbourne where she met fellow artist and future husband, Sam Atyeo. Dyring also studied under George Bell and Rah Fizelle and became close to Sunday and John Reed at Heide.
Dyring travelled widely – Panama, New York, Paris, South Africa, back to Australia then onto Dominica where she married Atyeo. From 1948, Dyring was based in an apartment on the Ile St Louis, which gained the nickname of Chez Moya due to the hospitality offered to visiting Australians.
Semur was painted in 1951, the year after she divorced Atyeo. The charming medieval town of Semur-en-Auxois is situated in eastern France and if you google images of the town you can easily spot the vantage point from which Dyring painted.
Dyring continued to exhibit her work in Europe and Australia and in 1961 she curated the Australia section of the Paris Biennale. After her death, an apartment for visiting Australian artists was established in her memory at the Cité Internationale des Arts, Paris.
Image: Moya Dyring, Semur, 1951, ink and gouache on paper, 32.7 x 50.1cm. Gift of Chandler Coventry, 1977. The Armidale City Collection.
CURATOR'S PICK – ALBERT IRVIN
CURATOR'S PICK – WENDY PARAMOR
CURATOR'S PICK – FRED CRESS