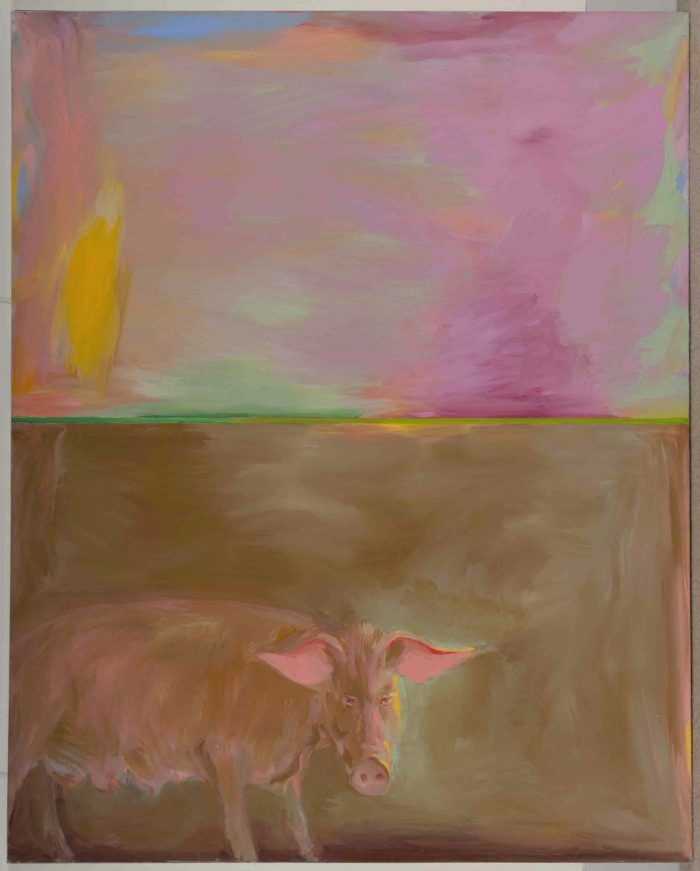 This week's #curatorspick focuses on 'Pig at Sunset' by one of Australia's living art treasures, Janet Dawson.
Dawson (b. 1935) studied at the National Gallery School in Melbourne and was awarded a Travelling Scholarship to London where she studied printmaking before continuing her studies in Italy and Paris. In 1956 she enrolled in the Slade School of Fine Art in London where she won the Lithography Prize. She returned to Australia in 1960 and continued to exhibit nationally and internationally.
A pioneer of the colourfield movement, Dawson was one of only three female artists to exhibit in the seminal 1968 exhibition, 'The Field', held at the NGV (along with Wendy Paramor and Normana Wight). In the same year, Dawson married her soulmate Michael Boddy. She was later to win the Archibald Prize with a portrait of him.
'Pig at Sunset' was painted in 1975, the year after Dawson and Boddy moved away from the bustle of Sydney to a remote property, Scribble Rock, near Binalong, a village in the Southern Tablelands of NSW. It was this move that triggered an interest in incorporating the landscape and the natural world into her paintings.
Dawson is still painting and holding solo exhibitions. Her work is held in all major institutions in Australia and many private collections.
Image: Janet Dawson, Pig at sunset, 1974, synthetic polymer paint on canvas, 152.2 x 122.1cm. Gift of Chandler Coventry, 1979. The Chandler Coventry Collection.
CURATOR'S PICK – ALBERT IRVIN
CURATOR'S PICK – WENDY PARAMOR
CURATOR'S PICK – FRED CRESS
CURATOR'S PICK – MOYA DYRING